The Hickory Playground was created by Dylan Tashjian, Robert Fuller, and Jordan Makant to celebrate creativity and support arts education in public schools in Catawba County, NC.
We are a non-profit 501(c)(3) arts advocacy organization that encourages the creation of new art by giving everyone the opportunity to witness it and participate in it.
The First Annual Hickory Playground took place over a 48-hour period from July 21-23, 2016. More than 250 people came to the SALT Block's Drendel Auditorium in Hickory, North Carolina, to watch eight original one-act plays performed for the very first time. By the end of the night, thanks to our incredible sponsors and audience, we raised $6,000, half of which we gave to Hickory High School's Art Department, and the other half to St. Stephen's High School's Art Department.
The second annual Hickory Playground took place from July 20-22, 2017. The night of the performance alone (July 22), more than $2,000 was raised in the name of the arts. This enabled us to give $7,000 to arts education in the local community, an important increase from our first year. $1,500 was given to the Arts Departments of Bandy's High School, Newton-Conover High School, Grandview Middle School, and Northview Middle School; gifts of $500 were given to the Arts Departments of Hickory High School and St. Stephen's High School.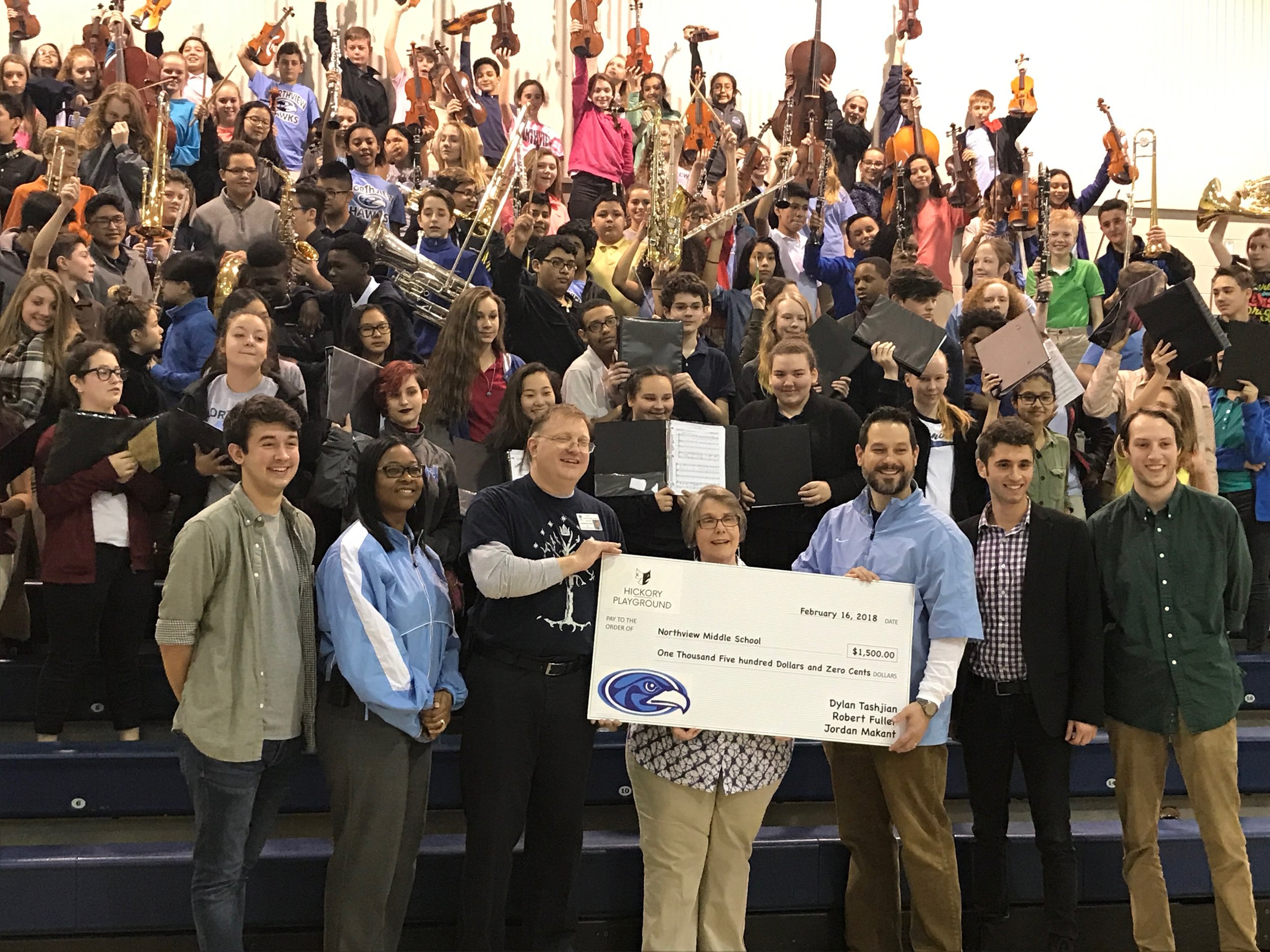 On February 15th and 16th, 2018, we had the distinct privilege of giving oversized checks to Bandy's, Newton-Conover, Grandview, and Northview. Each group was incredible, and we had the honor of answering wonderful questions from the students.
The Hickory Playground's support is the reason we're able to do a musical this year!
-- Alison Andrews, Drama Teacher at Bandy's High School
The Third Annual Hickory Playground saw an awe-inspiring series of successes: not only did we launch a new annual event with the remarkable First Annual Hickory Playground Gala for the Arts, we also were able to raise enough money to give away $12,085 to public school arts departments.
The Hickory Playground is so incredibly pleased to say that in our first three years we have impacted countless lives by: giving away $25,085 to arts departments in public schools in Catawba County; being directly responsible for the creation of 24 new, original ten-minute one-act plays; and exposing more than 750 people to innovative arts in our community.
When we look into the future, we see a world in which the Hickory Playground is able to continue to increase its financial support of the arts in the Catawba County and wider North Carolina community. Whether it is theatre, music, visual arts, writing, or anything else, we love creativity and want to see more of it. We are incredibly proud of what we have accomplished, humbled by the support, and overwhelmed by the enthusiasm the community has shown us.
We look forward to continuing to build our story together. With your help, we know we can go far. If you are interested and able to contribute in any way to the cause, please feel free to contact us at any time.